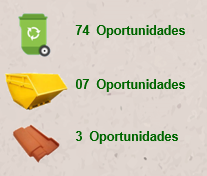 For Life in the city of Fortaleza. After implementing the platform developed by Aterra, a company specialized in Strategic Waste Management, MRV minimized the amounts of generated waste and effectively performed the proper destination of waste and sales of residues, products and materials that were no longer utilized by the construction site to recyclers and partners. According to the environmental analyst Thaís de Morais Souza all the negotiation for properly disposing of waste materials generated at construction sites is done through the Sustainable Business Network – Aterra, which holds registers of companies compliant with both the environmental legislation from the municipality and MRV's own norms and standards. "The residues are registered on the platform and offered to recyclers. In addition to generating income, the network also features management and technology", Thaís remarks. 
According to the analyst, the plan is to expand the Sustainable Business Network onto every single MRV regional office.
Results
This initiative generated almost R$ 23,000 in economies and benefits for the project's construction site. Each unit in the Complexo For Life (Alegria, Felicidade, Liberdade and Diversão) made large contributions. Check the figures!
Materials; quantities; metal; aluminum; paper; plastic; electronic devices; Opportunities.
Amount of materials recycled as per construction site; Alegria, Felicidade, Liberdade; Diversão; Total; Construction Site Revenue; economic benefits.